Consumer units, otherwise known as fuse boxes, are the heart of the electrics of your property. They ensure the electrical safety of your outlets, appliances and wiring, and ensure the power is turned off incase of a potential fire or electric shock.
Because of the large job consumer units do it is important to have them regularly updated, or at least inspected, to ensure they meet the current regulations. These could be regulations you are not even aware of. Some examples are below:
In the last few years metal consumer units were re-introduced for fire safety
Since the 18th edition regulations were introduced surge protection devices are now extremely recommended
Since 2008 virtually all re-wired circuits or new circuits are required to have RCD protection
RCD protection on downstairs sockets, or sockets that supply outside equipment, are mandatory since the early 2000's
In the electrical industry it is recommended you replace your consumer unit every 10 years to ensure you have the highest form of safety.
So I want my consumer unit upgraded, what next:
If you decide to have your consumer unit upgraded, the first thing to do is to be aware of what is involved and the prices/ time associated with it.
1. When upgrading a consumer unit it is always recommended that you have an EICR (Electrical Inspection Condition Report) done prior. This is because old existing electrics in your house may not meet the current safety standards. If a consumer unit is upgraded without a prior EICR you run the risk of the new unit continuously turning off, because it is registering the old electrics as dangerous or a potential fault. A good thing about having a prior EICR is it may show you have adequate protection and do not need a consumer unit upgrade.
2. An EICR takes around half a day to complete and will make us aware if it will be okay to upgrade your consumer unit, or if not, how we can rectify this problem. The EICR shall also assist in speeding up the final tests once a consumer unit is upgraded, as an electrical installation certificate is required upon completion as well as building control notification. An EICR shall also make you aware of any recommendations in your property, and ensure safety validation that could be used when moving or selling your home.
3. Next step is to determine what consumer unit you would like, below are some examples and information:
Duel RCD – RCD protection is the minimum safety standard your circuits should have. An RCD monitors the amount of current flowing through a circuit, and if it detects the current doing something it shouldn't, such as flowing through a person who is receiving an electric shock, it switches itself off in milliseconds to protect the person or to prevent a potential fire. A duel RCD consumer unit means you have 2 RCD's fitted in your consumer unit, each one protecting 50% of your property electrics. This means that if a fault is detected on one of the circuits the RCD is protecting, the RCD will switch off, and the power shall be isolated from the circuits it protects.
RCBO – An RCBO consumer unit works in the same way an RCD board does. The main difference is each individual circuit breaker (Switch) has its own separate RCD built in. This means that if you have a problem, such as a faulty appliance is plugged in, it shall only turn off the one circuit. This is very beneficial as you limit any potential overcurrent or earth leakage faults. We always recommend you have an RCBO consumer unit fitted as it is provides the most safety, however there is a considerable price difference when comparing an RCBO board to a duel RCD board.
Potential additions to your consumer unit upgrade:
SPD – An SPD is known as a surge protection device. This is a quick blow fuse that protects all of your voltage sensitive equipment in your house such as boiler PCB's, Wi-Fi routers, LED televisions from any overcorrect coming in to your property. An SPD is now highly recommended as an addition to your electrics under the recent regulation changes.
Bonding conductors upgraded – Your bonding conductors are the protective earth wires that are connected to your water and gas pipes, they are required as protection because these pipes are metallic and could become live in a fault. The old size of earth for these was 6mm or smaller, but now new regulations insist on 10mm for adequate protection. On a prior EICR, we can assess if and how installing these new earth wires can be completed in the best manner.
Meter tails upgraded – Your meter tails are the cables that supply your electricity to your consumer unit. Older style meter tails were a lot smaller because they didn't require as much power, but with everything we plug in or turn on today is it recommended these are upgraded. On a prior EICR, we can assess if and how installing these new meter wires can be completed in the best manner.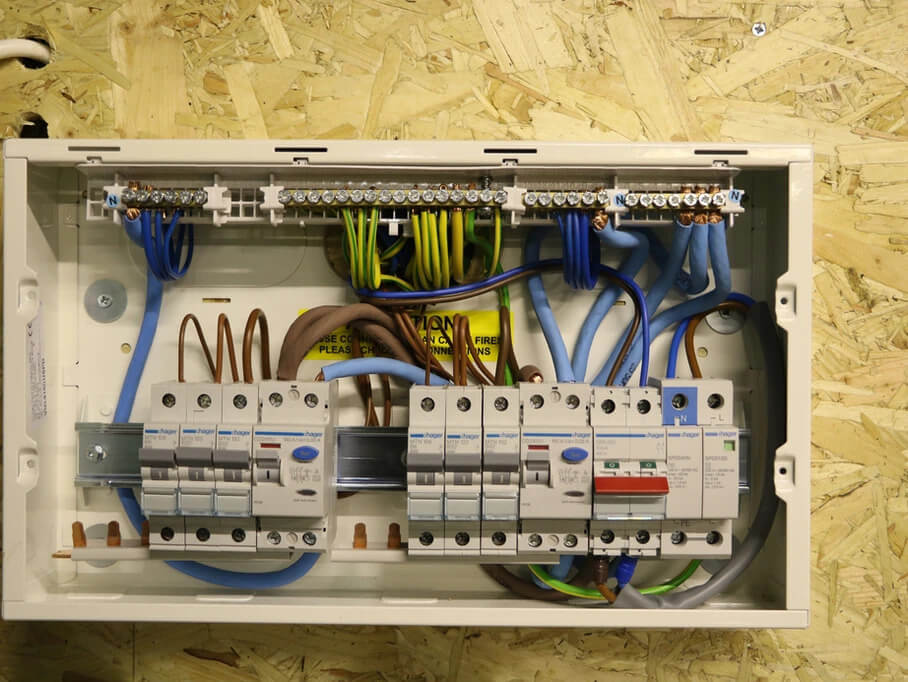 Cost:
The total cost of your consumer unit could range from £330 unto £1000, depending on the brand and type of protection you would like.
To try and make it easier for you, we have installed some average prices below for a replacement consumer unit to try and make it easier for you to estimate a cost:
Upgrade a consumer unit to a duel RCD board (materials and labour): £490
Upgrade a consumer unit to a RCBO board (materials and labour): £590
SPD addition to your consumer unit: £145
Meter tail upgrade: £75
An initial EICR: £130
What to look for in your contractor?
If you have decided to have your consumer unit upgraded, the next step is to find a reputable contractor to complete the work for you.
We recommend you get between 2-3 quotes for your consumer unit change, as some contractors prices vary greatly. When looking for a contractor we always check there credibility first, are they proud of there brand, is there of quality of work good, do they have a great review platform? We also check if they are a member of a competent persons scheme such as the NICEIC, Napit, Stroma etc. (this is recommended as if the contractor is not reliable you can report them to there competent persons scheme). Another perk to look for in you contractor is if they offer labour warranties on their work, for example all of our consumer units we fit come with a minimum 10 year labour warranty.
All consumer units should be installed to the current 18th edition regulations and notified to building control. The entire property should also be tested upon competition, and a test certificate provided to you upon completion free of charge.